There are about 100,000 reasons to love ...
your hair! 
Love those Locks
No matter the texture, color, or thickness. 
The average person has about 100,000 hair follicles on our head. It's been said that on average we spend more time on our hair than anything else. 
Throw in the last dog days of summer, over-worked, over-sunned, over-stressed strands, and that time we spend on our hair might continue to creep up. 
Frizz, flyaways, dry hair, lackluster hair, and just plain ol' fussy hair ~ whatever your fancy is with your hair, or even if your hair is left to fend for itself, it's a dead follicle that loves to be fed with vitamins, proteins, and keratin-building elements. 
In our last few blogs, we've been talking about the importance of caring for our complexion, using clean and pure serum boosts, and the powers of exfoliating the skin. This month, we're going to be diving into the hair follicle and the scalp.
It's true, we have many more face and body treatments than our hair treatments, but we felt it was important to include the four hair finishing products that we do. Our focus is on keeping our skin, and scalp!, healthy, and our passion is about cleaning up those products that we carry around on our bodies every day. Hydrating facial products, moisturizers, body oils, natural deodorants ~ these things are important, and our hair and scalp deserve healthy treatments, too!
Our poor scalp ~ it holds dearly onto every hair follicle and is often covered with silicones, plastics, and other pore-clogging and follicle-busting synthetics. 
Let's keep it clean, and let's take a peek at how we can do that.
Healthy Follicles ~ Healthy Hair
According to an article in Shape magazine, we women spend about six days a year on our hair. That's 144 hours, or 8,640 minutes spent on our tresses every year. That's a lot of heat... pulling... twisting... curling... and blow-drying. Men, you may not spend as much time, but that doesn't mean you should use less-than-healthy products, right?
Many guys and gals are still in the habit of washing with a foaming shampoo every single day. Not unlike over washing our complexion, or upsetting the skin's microbiome on an oily complexion, when we strip our skin (or scalp) of what it needs, to compensate it will produce more oil at the surface to try to get itself back in balance.
That's pretty smart for being dead hair! 
The only part of our hair that is 'alive' is in the follicle of the hair. The base of the root at each strand (the 'bulb') is the only portion that contains the cells that produce the hair shaft. 
Healthy follicle, healthy hair. Healthy scalp, healthy follicle. See the connection? 
A Clean Time-Saver
Save the 'do, save some time, save the scalp from being over shampooed.
Our Lavender Powder Dry Shampoo received one of the earliest positive shout-outs from a beauty editor for Volt Cafe, a London-based magazine. It made the beauty editor's short list of products that she loved, that worked, and that is safe to use and enjoy. 
Just add a sprinkling of our dry shampoo at the root of the hair shaft, where the scalp tends to get a little oily or seems dirty first, and then blend it in until it disappears. Fingertips work beautifully, our mask brush, or a brush of your own. No matter what your hair color is, all you need is a little, massaged into the scalp to disappear, and you're all set. Start small ~ a little goes a long way. 
The best part about our Lavender Powder Dry Shampoo? It doesn't coat the shaft or scalp with heavy gunk or lifting agents. It merely is there to quickly absorb any extra oil that may be weighing down the style. Rather than use an alcohol propellant or other gas that would help it 'spray' out in an aerosol, we've kept it as a powder so you can apply it where you need it. Your fingers, or our mask brush, is a perfect way to dab it on. 
An Effective Hair Oil without Silicones ~ Yes, it's True!
Were you wondering why we have broccoli in our product image this month? Well... read on.
The slippery-feel of a silicone-coated strand, or the slick feel of a makeup foundation, often comes from silicones. 
What do silicones do to the hair, skin and scalp? Well, for starters they can clog the pores. They can cause a heavy film or build-up on the strands. They can lock moisture in, but unfortunately they can also lock moisture out. Our scalp and hair needs moisture. 
Unless it's a 'green' hair product, if you turn over your conventional styling product, you'll most likely see some form of silicone. Some common names to watch for are:
Amino Bisropyl Dimethicone Cetyl Dimethicone Hexyl Methicone Phenyl Trimethicones Stearly Methicone or Dimethicone Vinyl Dimethicone
and the list goes on. If you see 'icone' following a synthetic looking name, likely it's a silicone. 
What is the long-term effect from using a silicone on the hair or scalp?
According to Shai Amiel, Celebrity Hairstylist & Salon Owner, "Silicone will weigh the hair down, making it limp, lifeless and, with time, very dull. It prevents moisture from penetrating the hair shaft and becomes like a magnet for dirt and other ingredients. So in essence, we get a good shine for a couple of days, but over time it will attract more buildup on the hair. With time it will dry the hair out; it won't allow the conditioner into the hair shaft and it ends up sitting on the surface. Due to lack of moisture, the hair will become very brittle and could lead to frizz and breakage." 
That's no good! 
Our answer to the masses of hair oils that are out there is our newly awarded best hair serum, Natural Shine Serum for hair. Rather than use these silicones, both in our hair products and in our facial serums and oils, we love to use broccoli seed oil. Yes, broccoli oil ~ and THAT'S what we have broccoli in the image above! :)
Broccoli seed oil contains sulfurophane, a compound which ramps up the cellular defenses that protect the skin and hair against UV damage. Not only does it act like nature's version of silicone, but it feeds the strands and scalp with vitamins like A, C and B6, helping to make hair strong and youthful while controlling frizz. 
Tip: We also love to use our Natural Shine Serum as a pre-shampoo conditioner. Yes! Massage the serum onto the hair and scalp, let it sit for 20 minutes or so, and then shampoo as usual. Any open hair follicles will drink-up the hair serum and your shampoo will wash away whatever is left on the surface, while the thirsty strands have already drunk up the healthy serum. 
Below: Photo shoot in Paris. Qēt Botanicals skincare on model Ash Heller by makeup artist Walter Denechere. Stylist, Marie Revelut. 
How to Use a Sea Spray
We often get asked if we have a hair spray. The short answer is "nope." We avoid and use no alcohols or synthetic stiffening agents that freeze the hair into place. 
But we DO have a hair spray ~ it's just not the kind of hair spray that many reach for when wanting hold and stiffness. Our Natural Sea Spray adds volume and texture to tresses without weighing them down. 
Love your hair, let it move, embrace it, and let the wind blow! And... remember to move your fingers through your hair once in a while. You'll love it! 
Many sea sprays can be drying, and we've countered this by adding follicle and lock-loving oils such as lavender, rosemary, carrot and raspberry. They not only help to keep the moisture in the strands, but they protect it from having the salt strip any color or hydration away. 
Because there is no alcohol and only pure gentle ingredients, a little goes a long way. And it smells divine! Some like to hold their heads upside down, others pull their hair back and spray, and some just close their eyes and mist. It's to each his, or her, own, and we all find the ways that suit our hair best. 
A tip we often have to remind our friends is about using the mister that comes with the Natural Sea Spray. Because we don't use any silicones, alcohols or slipping agents in the formula, the mister may stick down after pushing it down. All it needs is a little tug up to be ready to use again. We'd much rather add a little elbow grease than add anything synthetic or harmful to our sea spray. Right? Right. 
""Thank you soooooooooooo much for your wonderful Natural Sea Spray!! I LOVE IT!!!!! And I love knowing that it is safe with nothing bad in it! You guys have a wonderful thing going and I'm so glad I found you! Thank you again for your exceptional quality products!! God bless your hearts." ~ Tiffany
A Pomade to Experience
We feel like we've saved the best for last.
Our Nutri-Pomade for Hair ~ it won an Earth Day Beauty Award in 2015, and again in 2018... a repeat performance!
Beards, scalps, moustaches, long hair, curly hair, unruly hair, frizzy hair, dry hair, wet hair ~ the ways to use it are numerous, and many have found their favorite way and have been sticking to it. 
Personally, I use the pomade daily on dry hair. I haven't blow dried my hair for years and when my hair is dry, I like to mellow it out a bit with a little heat on a large curling wand. I ALWAYS melt the pomade between my fingertips and massage it on the ends first, even if I'm going to leave it and not add heat to my hair. 
It's not a hair-holding pomade, it's a nutritious pomade, hence the name. The coconut and shea butters add just the right amount of protein, and the oils add a natural sheen that isn't too much, all the while locking in moisture and protecting from the elements, and frizz. Hair is controlled, frizz is kept at bay, and hair is still allowed to move and feel great. 
Our pomade can also be used as a mask on the strands and scalp, and like our Natural Shine Serum, as a pre-shampoo treatment it's nourishing and gentle. We love multi-functional products ~ they save time and space. 
Petite Qēt
The Travel and Trial Size Discovery and Experience
So many different textures of hair:
Short Hair Medium to Long Hair Straight, Thick Hair Long, Straight Fine Hair Kinky Hair Wavy Hair Curly Hair
Which hair treatment is best for my hair? How do I know if it's what I'm looking for? Well... we have kits for discovering and experiencing our treatments in small amounts ~ everything is concentrated and fresh, a little goes a long way, and we're not kidding about our kits. :) 
Our kits are our most popular way to discover our face, hair, and body treatments in small amounts at the start. For our hair treatments, our Hair Care Suite contains all four of our hair finishing treatments, and our Hair Care Essential Set offers a full sized Natural Shine Serum, a generous sampling of our Nutri-Pomade, and our favorite Italian wooden comb. I've had my wooden comb for years, and it's a favorite of many. Rather than using plastic on the strands, the safely sourced wood is gentle on the locks, and the rounded ends of the comb gently massage the scalp and stimulate circulation.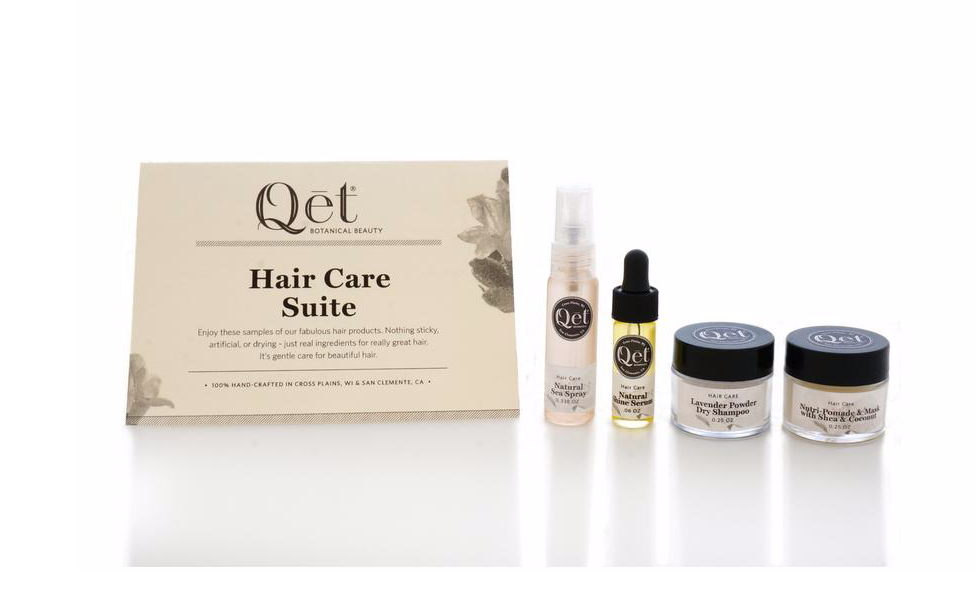 Honored to be Featured in The Wise Consumer Podcast
It's fun, it's informative, it's empowering... and apologies, there's a little bit of swearing! :) 
Madeleine Wisecup is the founder of the podcast and social brand, The Wise Consumer. Traveling around the globe and meeting with various entrepreneurs and founders, Madeleine focuses on brands and people who are making a difference and making a positive impact.
While in San Clemente, Madeleine wandered into our Skin Studio and experienced Qēt. Since then, she's a fan, we've been chatting and she asked if we could sit down and have a chat for her podcast. How could I say no?!
If you're interested in getting the inside scoop, and we haven't had the chance to communicate or chat in person, this is absolutely the next best thing!
We all have a story to tell, and Madeleine asked me details about mine. We chatted about the very beginning, how Qēt and everything came about, the struggles and the rewards. We dive into some deep subjects and we also shed a humorous light on a not-so-funny subject ~ how synthetics and toxins can negatively affect our environment and our bodies.
Pop in those earbuds, head out for a quick walk, or turn up the volume while you're puttering around, and enjoy some time getting to know about the behind-the-scenes with Qēt. 
Here is the link to get us connected. Enjoy! 
http://thewiseconsumer.com/index.php/2019/08/27/qetbotanicals/
Below: Quick pics of Madeleine and I in the California Skin Studio during the podcast recording. 
Your September Special
With about 100,000 hair follicles on the average scalp, there are 100,000 reasons to keep it healthy and keep it real. Here we have it ~ it's gentle care for naturally healthy hair!
This month, SAVE 10% on all four of our full-sized hair finishing products: 
Lavender Powder Dry Shampoo Natural Shine Serum Nutri-Pomade & Mask with Shea & Coconut Natural Sea Spray
When shopping online, use code HEALTHYHAIR to save, or pop into one of our Skin Studios.
Are you still looking for a clean and healthy traditional shampoo? Feel free to check the EWG.org Skin Deep database as a wonderful resource for not only your clean hair care product needs, but skincare, food, baby products, and the like. Their Healthy Living app is handy to keep on your phone, too!
Happiness ~ It's not "Out There"
Eating foods that make us feel good, using products that are safe that don't harm us or our hormones, taking a walk outdoors, and filling our days with actions, sights, and people that make us happy...
these are things that make us happy and fill us with happiness. Right?
Not always.
Where does happiness come from? It doesn't come from external things. Just like we're not responsibilite for someone else's happiness, they're not responsible for ours.
Happiness comes from inside of us... from our thoughts, our actions, and even our every day routines. It's the way that we process these activities and how the mind responds to them that keeps the happiness river flowing.
We can't rely on outside sources to make us happy ~ it's our inner happiness that trickles out and keeps our mind at ease and keeps the spring in our step. 
Let's keep finding the happiness in the little things and celebrate it every day. Before you know it, you'll be skipping your way through the day while whistling a happy tune (or humming, if you're not a whistler). :) 
xx
~ Lisa 
Below: Enjoying the dog days of summer on a walk. Like I've mentioned before, walking these dogs is like flying three kites at the same time... but ya gotta love 'em! 
~ fresh ~ natural ~ sumptuous ~
~ non-toxic, organic, proven, and high-performing ~
~ effective, award-winning botanical treatments made without compromises ~