'Tis the Season to Gift Green + Winter Skin & Mood-Boosting Tips!
December's Gifts
Bright lights, gift giving, and giving thanks. 
We've received many gifts throughout the year ~ both from new Qēt friends and customers, and from those that have been with us since the beginning. You share your skin and health triumphs with us, and together we work out the bumps (sometimes literally!) that we face together.
Every day we share our gifts... our clean, safe, and effective treatments, with you. This month, for a limited time, we would like to share a special on all of our gifts. 
It's been said that organic is not a trend. It's a tradition. So true! It's how everything began. Gifting green can not only give you points in the gift-giving category (hooray!), it shows that you're thoughtful and you care (and they may get the hint that you might like some nice green things for yourself!). 
Photo credit: "Thyme is Honey"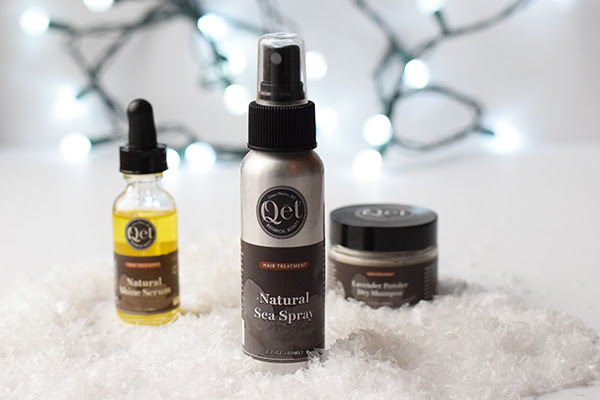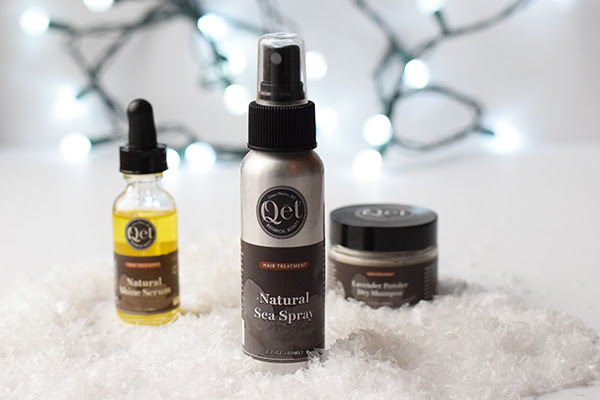 Winter Tips for Healthy Skin
The wind, the temperature changes, the indoor heat ~ 
all of these things can cause sensitive skin to shriek in uncomfortable despair. Even the most normal and healthiest skin condition can have a radical change as well - no matter what your zip code is. 
Chapped cheeks, dry lips and hands, even brittle hair ~ this festive season can take it's toll on us. Let's get the upper hand on these seasonal changes and sit back and enjoy the holidays, as we should.
Winter Skin Tip #1 ~ Hydrating vs. Moisturizing
There's a difference between these two actions ~ and it's often a bit confusing.
Hydration is not the same as moisture. Skin that needs to be hydrated lacks water. Skin that needs moisturizing lacks oil. Hydrating the skin can make it soft, but it needs the oil to protect it from evaporating on the surface. Dry skin is often hydrated, but not moisturized. Dehydrated skin can feel tight and lack luster. Rough textured skin can flake and be dry. Confusing? Yes, we know. Happily our serums not only have moisturizing oils, but they have humectants and different properteis to hydrate as well.
Our Day Serums and our Night Serums, in each of the three Skin Suites, are formulated to address the current skin's condition. Because there are no waxes, no fillers, no water, and no extracts, the pure, performing blend of oils will add moisture via the oil, and will hydrate the dermis by offering a shield to prevent the skin from drying out. 
Most creams and lotions have oil in them, in very small amounts. We prefer to use just a few drops of a well-shaken, moisture-binding blend of lovely oils to do the trick. Those oil-free moisturizers out there use synthetic silicones and polymers (fancy plastics!) to make skin feel slick and hydrated, while many times it can actually pull the skin's natural moisture from the top layer of skin and be potentially damaging to new cells and/or collagen. Bah-humbug!
Winter Skin Tip #2 ~ Exfoliating
"The very first sign of aging is not a wrinkle; it's a lack of radiance," says dermatologist Dendy Engelman to SELF magazine. "When we're not exfoliating or removing those top surface cells as quickly, the light doesn't reflect off of the skin as nicely as it does when it's very clean and properly exfoliated. Even if your skin doesn't break out, it is going to look older, rougher, and less radiant."
When we're wide-eyed and bushy-tailed, and are in our 20s, or early 30s, our skin naturally turns over between 28-45 days.
As we get savvy and smarter, this time frame greatly increases, and even doubles. Even though we don't see it, the dead skin cells on the surface are sitting there, like little grinches, waiting to rob us of glowing, healthy looking skin.
So let's raise our glasses and cheer to exfoliating! Our exfoliants are like time capsules of healing herbs and minerals waiting to be woken up. If you're a tea drinker, it's not unlike seeping your tea bag in warm water. The elements become alive and are reawakened - like a sleeping child on Christmas morning!
When exfoliating properly, if at the start, or continuing as you already do, finding your happy number per week is up to you. Most do 1-3 times per week. The serums with their oils and humectants can penetrate and feed the skin like they want to without being turned away. It's also a great way to open the gates and allow anything trapped under the surface, or in a clogged pore, to find it's way out before it becomes inflamed and angry.
My Rosacea and current skin condition likes to be exfoliated (and yes, I'm very gentle about it), almost every evening. It only takes a literal minute or less, but I can visually see and feel the difference when I skip this step.
===> I've recently uncovered some photos that show my Rosacea, sensitive skin, adult acne, and the reason that Qēt was born in the first place. Blech. In January, we'll be talking about clean starts, and I'll share those newly unveiled photos with you.
Winter Skin Tip #3 ~ Overnight Pampering
We're resting, we have visions of sugarplums dancing in our heads, and our body and mind is quiet to reset and re-vitalize for the next day ahead.
Every single night our skin gets a chance to heal as it goes through a type of cell regeneration while we sleep. The growth hormone, melatonin, stimulates the body's organs to renew. Our largest organ? Yes, the skin, also is renewed as the melatonin goes to work to repair what we walk into during the day... pollution, impurities, sun, and free radicals. 
Washing our faces before bed keeps the surface open to help promote the cell turnover, it also helps to keep skin clear of breakouts. Hair follicles are being lubricated while we sleep. Clean skin allows the oil to flow smoothly to the surface. Makeup, impurities, or even if you're not a makeup wearer, just our daily gunk that is invisible accumulates on our complexions and can block the top of the opening. Hence, it's the beginning of acne or inflammation. 
Makeup, sunscreen, daily impurities, sweat... any and all of these can trap the dead skin cells and stop this natural process of cell renewal. Not cleaning up before rest doesn't affect the melatonin production but it can, at the skin's surface and below, interfere with the natural cycle of nighttime repair.
Our favorite skin pampering treats for nighttime? After cleansing with our oils, we love to exfoliate at night to help the serums penetrate the skin rather than pamper the pillow. Finding the right Night Serum makes a difference. Many times people move up their night serum from their Skin Suite day serum. On a site note, our Restoring Night Serum was recently added to USA Love List's Best Nontoxic Facial Oils made in the USA.
The added bonus? A bit of our awarded Lavish Serum Salve. I love to keep mine next to the bed. After cleaning-up from the day, and directly over my night serum and eye serum, melting a tiny amount between my fingertips and applying around eyes, mouth, neck, check, and then massaging into my hands, fingertips, elbows, knees, and finally a foot massage with it. Oohhhh... I slide under the covers with only the loveliest of visions of sugarplums dancing in my head. 
Foods to Beat 'Bah-Humbug' Winter Moods
Five foods to keep us feeling merry and bright. 
"Let thy food be thy medicine and thy medicine be thy food." ~ Hippocrates. It's a popular statement and one that is proven over and over again to be true. Rather than pop something synthetic, you can find alternatives in the outer aisles of your health food store, in their natural form! 
If you're thinking of gifting green this season, take this into consideration. Give yourself a green boost from the inside, too! Here are five foods to keep you twinkling on any ups and downs that may come with the season. There are many more that are beneficial, and these are a smart start. 
Greens. Dark and leafy, they're the best kind. They're the best, most nutrient-dense item available for us to eat! Chard, kale, spinach... these leafy friends contain the most powerful immune-boosting and anticancer benefits, hands down.
Walnuts. Omega-3 fatty acids support brain function and can lessen the symptoms of depression. Walnuts are one of the richest plant sources of this beautiful Omega. 
Beans. "Beans, beans, the musical fruit, the more you eat, the more you ... toot!" Yes! It's true, they're loaded with necessary fiber, they digest slowly, they stabilize blood sugar levels, and they can boost the mood because as they take their time evening out mood swings that can come from varying blood sugar levels. 
Tomatoes. Rich in folic acid and alpha-lipoic acid, studies have shown that a deficiency in folate correlates with those that have bouts with depression. These little red jewels help the conversion of glucose into energy, which in turn stabilizes our mood. 
Avocado. Here comes the healthy fat that your brain needs in order to function and run happily and smoothly. Over half of an avocado's calories come from healthy fats, they harbor about 4 grams of protein, and they are like a multi-vitamin for our skin and body. Vitamins K, B5, B6, B9, C, and Vitamin E12 are found in this green loving fruit. 
I pull as many of these things into my daily menu as possible. My morning starts with a green drink, and my lunchtime salad is loaded with many of these things as well. Take a peek at the salad my husband gets ready for me.
Yes, I'm a lucky gal.
Holiday Gift Guide for the Mindful and Minimal
How delighted are we to learn that we've made the Featured Brands list for the "Holiday Gift Guide for the Mindful and Minimal" from the oh-so-popular and smart-and-savvy Mindful Hellos blog.
This carefully-curated selection of daily delights is a guide "to represent a lifestyle as opposed to just "things" to buy. I prefer not to just "collect" things for no rhyme or reason so I tend to keep things slightly minimal!"
Sami, creator of Mindful Hellos, continues... "I prefer to welcome the things that are the opposite of "one-time purpose" sort of thing as well. These items listed below are those that create an "experience", or add to one, at minimum. I have chosen some of my favorite things to use on a daily basis, and I hope that it might connect with you too! I genuinely admire these companies and what they create, stand for, and their mindfulness in the process."
We ~ as gals, and we ~ as a brand, also feel the same when it comes to obtaining 'things.' 
A wise gal once told me... "For our first 50 years, we spend time and money collecting things. For the next 50, we spend time getting rid of it all." Let's not let it take that long! 
Experiences, discoveries, and doing things we enjoy is what we like to receive... and these are things that require no recyclable wrapping paper or pretty bows. 
Retreat Time
And speaking of experiences... 
We schedule doctor's appointments, hair appointments, kids school activities... and we sometimes need a nudge to calendar some self-improvement time and experiences as well.
We are the select skincare partner for our friends at Retreats Unlimited. This group of top-notch professionals focuses on our health by creating wellness getaways and transformational experiences, with volumes of experience and years behind them. They bring together enlightening shakers and movers, beautiful locations, and the reason to reset your intentions and get your groove back.
Speaking of getting your groove back ~ ! ~ It's the "Get your Groove Back ~ Advice for your Life" retreat with Kimberly Fulcher. Stella got her groove back... (remember that movie?) click on the link to see what the girls that joined Kimberly's retreat have to say. And, in going there, you'll be just 10 minutes from our San Clemente Skin Studio. You can come on over for a little botanical pampering before your after you've been reset and are grooving in the new year. Delight! 
Photo credit: Retreats Unlimited website
Your December Special
To you we're extending a special 10% and 10-day savings. From December 6th through the 16th, we're sharing a site-wide sale. Anything and everything shares this special ~ our facial products, cleansers, serums, body oils, bathing lovelies, hair finishing products, natural deodorants, aromatherapy, and our kits (we love kits!) which make great stocking stuffers, if you're stuffing stockings this year.
From December 6th through the 16th, SAVE 10% on everything fresh that we formulate... which is everything!
Use the code GIFTGREEN so save while shopping online, or mention it in our Skin Studios. We have products that fit into the EWG Verified® program and have been whole-heartedly Verified.
Safe for you. Safe for our environment. Lovely to indulge in.
Our Grand Opening
Just a handful of days ago, we celebrated the Grand Opening of our San Clemente Skin Studio. French Rosé, European nibbles, and samples, suites, and stocking stuffers sprinkled the Studio. What a fun night!
Many family-owned businesses and natural brands do not have a retail location. For us, we love it! It not only gives us a beautiful place to craft our treatments, but we all know that skin is sensitive, and skincare is a sensitive subject. Being able to connect face-to-face, literally!, with new and returning friends makes us smile and sometimes blush. It also allows us to understand some of the skin mishaps and issues that come strolling through our doors in WI and CA. 
Thank you for your support that helps us open our doors, blend our botanicals, and keep the smiles smiling. 
Happy holidays from our Qēt family to yours. 
Peace.
~ Lisa
~  fresh  ~  natural  ~  sumptuous  ~
~  non-toxic, organic, proven, and high-performing ~
~  award-winning botanical treatments handmade in WI and CA  ~