Celebrating 9 Years of Clean Beauty... with You!
Cheers!
We're celebrating
nine years of clean beauty… with you! 
We're independent and woman owned, we're run by family and friends, and we appreciate you being here.                 
To celebrate our nine years of sharing our organic, cruelty-free, and nontoxic treatments, we're having a site wide sale.
In April, SAVE 20% on everything site wide and in our Skin Studios.
Enter code CHEERS20 in your shopping cart or mention this sale in our Skin Studios.
Behind the Scenes ~ Why Qēt Botanicals is Different
Our process is very different than pouring a pre-mixed formula into a bottle, adding a drop or two of our own ingredients, and calling it our own. That is private labeling. Our treatments are our own proprietary treatments. 
With each of our products, there is much time, energy, and about 12-18 months of preparation that go into each treatment before it's ready to be launched and shared with you.
Here's a quick example of some of what happens before you enjoy your Qēt, and what happens on a regular basis:
Researching, and selecting individual ingredients for effectiveness.

Testing, evaluating, and developing multiple test batches. 

Finalizing and documenting every drop that goes into every treatment. 

Reviewing and formulating micro and larger batches.

Third party testing of various individual ingredients for safety and authenticity. 

Creating and printing labels, setting up UPCs, and sharing instructional content.

Photographing and importing details to website and Skin Studios

Getting our batches in larger quantities and ready to share.

Fulfilling, hand making, labeling, and freshness dating products daily to fill our shelves and your orders.

Finally and happily, carefully packaging and sharing your packages either in person or by mail ~ directly from us to you and your doorstep.
Best of all ~ since we launched, we've been giving the confidence to safely care for ourselves and our families. There is no worry of harmful or synthetic ingredients getting in the way of our health and in the joy of using our Qēt care products. 
We get asked all the time... "Why and how did Qēt start?!"
It's been a beat that started filling my heart decades ago. It was a void that needed to be filled as I was feeling and watching my skin, hair, and body change with my health and hormone concerns. This is a glimpse and photos of my skin before, and the "why" behind the beginning.
Having always been an ingredient reader, I think I was also a bit of an ingredient ignorer. I would sometimes skip over the final ingredients in a product and just focus on the good ones and on how clean the bottle said it was. I enjoy real ingredients, I love to cook and develop recipes, and I have a thing for plants, trees, flowers and nature in general. There is so much life around us; to be able to tap into that and harness the goodness right out of real ingredients makes all the difference. 
Working with higher quality, clean, and proven ingredients is not the easiest or the least expensive way, but in our opinion, and in the opinion of our regular customers, it's the best and only way.
There is a big difference in real food, fast food, and heavily preserved or processed food. Our systems can't thrive and flourish on fake ingredients. It's exactly the same when it comes to those care products that we use every day. Eventually too many synthetics can be just too much for our skin and other organs to handle.
Frustrated with my skin and health changes, after meeting with numerous medical experts, hearing recommendations and advice, and taking oral and topical prescriptions, I was ready to ditch those pills and creams and jump into a different way of caring for my overall health. 
I approached my care for skin and body just like I do when making a family meal... better ingredients taste better in food, and better ingredients perform better for our skin. After several years of formulating behind closed doors, I was finally ready to share the results.  
Know that we're not medical advisors, and everyone's results can be different. We know it can be intimidating to jump into a different routine of any kind. Because I had heard so many similar stories and have so many friends with the same concerns with sensitive skin, premature aging, hormonal changes, hair changes, etc., for so long, we went all in. I started to have incredible and positive physical and hormonal changes, and I knew I had to share what I had been working on.
Even if what I was about to share all those years ago didn't work for others, I knew in my heart that I could not go back to the stale and mass-produced products that were so beautifully packaged on the outside, but very different on the inside.
Now, years later, and thousands and thousands of products shared in the US and across the globe, the Qēt team and I are thrilled to be able to celebrate nine years since the day of our launch.
FUN FACT... it's also my 55th birthday!  It's on April 1st and the same day that Qēt Botanicals was launched. The best gift I could imagine is sharing the chance to discover and experience our true ingredients in their highest form that can help us look and feel better. 
There's been a whole lotta love shared during these last nine years, and a whole lotta fun happening this month! 
With our efforts have also come some wonderful accolades from various beauty editors, health practitioners, industry leaders, skincare experts, and those looking to help others become more educated on their ingredients and make healthier choices.
Here's a recent blog with a few Qēt customers' before and after photos. 
Below is a list of awards that we've received over the years based on the quality and safety of our ingredients, the effectiveness of the products, and the sustainability and efforts in our clean manufacturing practices.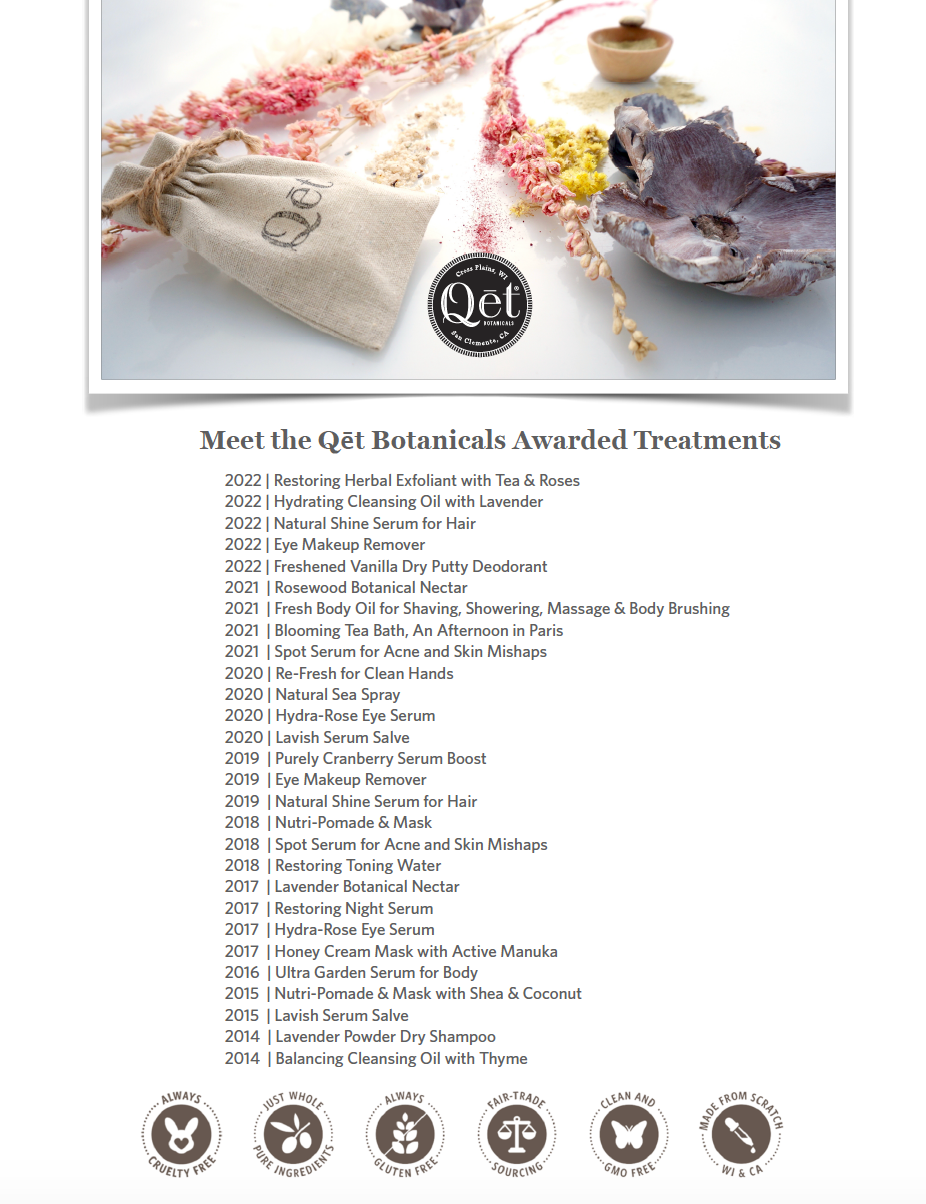 Small Business Strength... Did You Know? 
Based on data from the Bureau of Labor Statistics via Entrepreneur, approximately 20% of small businesses fail within the first year. By the end of the second year, 30% of businesses will have failed. By the end of the fifth year, about half will have failed. And by the end of 10 years, only 30% of businesses will remain — it's a 70% failure rate.
Thank you for helping our small business continue to blossom and grow throughout these crazy years! And there's still more to come ~  
____________________
What you might expect when you first meet our treatments ~ 
We've always known that real ingredients equal real results, and this couldn't be truer.
Our skin regenerates itself after 28-36 days, so it can take a little time to start seeing results. BUT we've heard numerous times from customers that they've seen and felt immediate results as well.
 Another FUN FACT ~ if a guy or gal steps away from using our treatments for a while, they tell us later that they didn't realize just how beneficial our products were until they stopped using them. We hear it all the time... "I can't believe how much softer and more moisturized my skin feels when I use your products." We get it, it's music to our ears, and it keeps us glowing.   
SHOP OUR FEATURED FAVORITES PAGE
"The most luxurious skincare line ever! I can't wait to pamper myself every day!! Qēt Botanicals changed my skin. Thank you for noticing (to my husband)!" | Wendy
Your April Site Wide Special
There's a lot of celebrating going on, so everything on the site and in our Skin Studios is on sale. EVERYTHING! 
Enter the code CHEERS20 at the top of your shopping cart in the Discount Code box, or mention this sale if you're near one of our Skin Studios.
Remember, to use only one discount code per order. 
Free U.S. Priority Mail Shipping for orders over $35. 
Free gift sample with purchase... choose one for you or share with a friend!
"Honey, before you turn 50, it's all about accumulating things. After you're 50, it's all about getting rid of what you've accumulated and keeping only what you need," she said to me with a smile.
These words were shared with me years ago by a wise woman, and she was so right!
We choose good foods to eat. We clean up and brush our teeth. We wear things that make us feel good. We keep moving and try to get the best sleep we can. And we take care of our hair and skin. It's not anything excess, it's a part of self-care for our body and our mind.
We know there are many, many options of care products out there. Being educated about safe and toxic ingredients makes it much simpler to keep it simple and use products that get the job done in small amounts and with zero harm. It's a wonderful peace of mind. 
Below: Hydrating Day Serum, Hydrating Night Serum
We're a small business with a team of big hearts.
All of us in the studios and behind the scenes at Qēt Botanicals are thankful that you support us and our treatments. After years of researching and testing, and after seeing and feeling my own happy results, I felt strongly about stepping into the incredibly noisy and over-promised space of care products in the beauty industry. So here we are if you need us! 
Putting my face out there with my before photos and with the brand, and now at 55, I have nothing to hide, and neither do our treatments. We're always fully transparent about every single drop.
At age 55... I've always said that it's not just a number, it's a level of achievement. The higher the level, the better, right?! We shouldn't have any hang-ups about getting older, and we're not focusing on anti-aging, but rather feeling our individual best at any age. I just said to my husband this morning... "55, I don't feel 55, but 55 years is a long time." He jokingly replied, "It's not a long time... if you're a tree." LOL... and there you have it.  :)
Let's be more like a tree ~
~ resilient to the wind and storms, which actually make our roots dig in deeper! Let's walk this botanical path together. Let's have fun and let's feel great. Let's give ourselves permission to enjoy, skip, and be silly, too! Life's too short to use fake ingredients ~ so let's just keep it real.
Cheers to you, and healthy hugs to all of us! 
~ Lisa
   Founder & CEO
Below: A 30 second video / quick snap.  Click on the link to peek! 
https://www.youtube.com/shorts/Avyj3dOil8Y
~  fresh  ~  authentic  ~  sumptuous  ~
~  non-toxic, organic ingredients, proven, and high-performing ~
~  effective, award-winning botanical treatments made without compromises ~